2018 Bowral Classic: Photos
2018 Bowral Classic – Watch As Chris Miller & Nero KOM Racing Offer Their Insight Into The Gran Fondo.
Chris Miller and the Nero KOM Racing team are well-known for not only their supreme cycling skills, but also the entertaining and informative videos they post to YouTube.
Here, in this latest offering, Chris and the crew give their take on the 2018 Bowral Classic. We love it and reckon you might enjoy it too.
Great work Chris!
<iframe width="560″ height="315″ src="https://www.youtube.com/embed/2ED4OkxeZnk" frameborder="0″ allow="autoplay; encrypted-media" allowfullscreen></iframe>
2018 Bowral Classic: Photos
Bowral Classic 2018 – Event Wrap, Timing Link And Beardy McBeards First Images
Regarded by many as 'the best fondo to date', the third annual Bowral Classic went off without a hitch over the weekend – but even organisers would admit it was touch and go in the lead up to the major charity event.
With pre-event weather forecasts that included a 95 percent chance of up to 40mm of rain on event day, a phenomenal storm and high winds hit the event village on Saturday afternoon and more rain and storms were predicted for Sunday.
Perfect Conditions After Saturday Storm
But by early Sunday the skies cleared and – as if on cue – the Southern Highlands turned the ultimate cycling conditions.
The Bowral Classic – Bicycling Australia's third Gran Fondo for 2018 – was a sellout with more than 3400 riders from around Australia – and several from New Zealand and South East Asia – rolling out from the start line.
Riders enjoyed a range of courses from 35km, 90km, 120km and the big one …the 175km Maxi Classic that included the legendary local 1.3km Oxleys Hill climb as its KOM.
Rapidly gaining a reputation as not only a world-class Gran Fondo but post-ride expo of all things cycling, the event village was absolutely buzzing on Sunday afternoon.
Enjoying the local Southern Highlands food, beverages and sunshine, the 'event avenue' was packed as riders looked over some of the best products on offer and on display by event partners.
Among the highlights was the prize of a $4600 Bianchi Aria being awarded to the winner of the 2018 #Bianchi4Bowral competition. Shae Tye was absolutely elated to be awarded the prize – a particularly sweet victory after suffering a mechanical during the 120km Challenge Classic and being unable to continue.
Register your interest for the 2019 Bowral Classic today and book your accomodation now!
A more detailed 2018 Bowral Classic report to follow.
Win A Gran Fondo Starter Kit With BBB Cycling And The Bowral Classic
Want to win the ultimate Gran Fondo starter pack? Who wouldn't!
Valued Bowral Classic supporting partners BikeSportz and BBB Cycling Australia are offering a dream kit bag valued at over $1000 and drawn on Friday October 25.
The package includes Science in Sport Nutrition valued at $250, a Scicon Race Rain Bag valued at $185,  BBB Cycling Australia accessories and more!
No Purchase is necessary to enter the competition, to enter simply write why you would like to win the prize pack on the entry page here.
Full BBB Cycling Australia Starter pack Product List:
Scicon Race Rain Bag $185
Science In Sport nutrition $250
Avenger Sports Glasses $159.99
Falcon Helmet $149.99
Keirin Jersey $99.99
Corsa Bibshorts $119.95
Storm Shield Jacket $119.99
Federal Energy Minister Angus Taylor Preparing For Bowral's 175km Maxi Classic
He is Australia's Energy Minister, the Federal MP representing the Southern Highlands, a passionate cyclist, and preparing to saddle up for the ultimate challenge – the 175km Maxi Classic at the 2018 Bowral Classic this coming Sunday.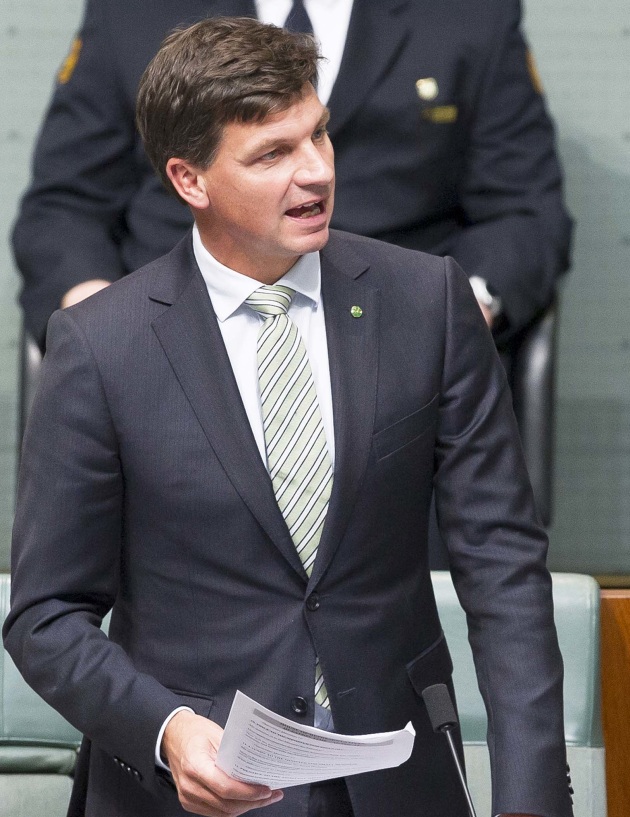 The Honourable Angus Taylor was recently promoted to serve as Energy Minister in the Morrison Government after serving as Minister for Law Enforcement and Cybersecurity under Malcolm Turnbull's leadership.
Somehow managing to balance his busy Ministerial duties with training and preparation for one of the most gruelling Gran Fondo courses ever, Minister Taylor explained the challenges of his Cabinet / work / family and life balance.
"It is a challenge, but I know I work better if I exercise," he told Bicycling Australia. "Fitness has always been a big part of my life … and innovations like Zwift have been a godsend for time poor cyclists. For me, a quick 30 minute blast on the trainer in my office would be equivalent to an hour or two on the road."
Balancing Work With Training
A strong supporter and previous participant of the Bowral Classic, we asked how his preparation and training was going for this year's longer event.
"I'm counting on the residual miles from Pollie Pedal earlier this year," Minister Taylor told us. "We did about 1000km in a week from Melbourne to Canberra, taking in spectacular country and meeting fantastic communities while raising funds for Soldier On.
'Home In Time For Dinner'
"But I've kept the legs ticking over since on the trainer and catch up as often as I can with bunches from Goulburn and Camden. The 175km will be a big test, no doubt, and that last 20km or so back up into Bowral will hurt. But I'm very excited the ride goes through many villages in my electorate so that will spur me on."
And does the Minister have a target time or specific goal in mind? "To be home in time for dinner," he said with a laugh.
So far as balancing ministerial and electorate duties with family life – and then fitting in on-bike and training time, Minister Taylor said having a supportive family was absolutely vital to continuing to pursue his passion for cycling.
"I'm very lucky my kids and wife Louise are very accommodating, but she has one rule – that I don't shave my legs," he said.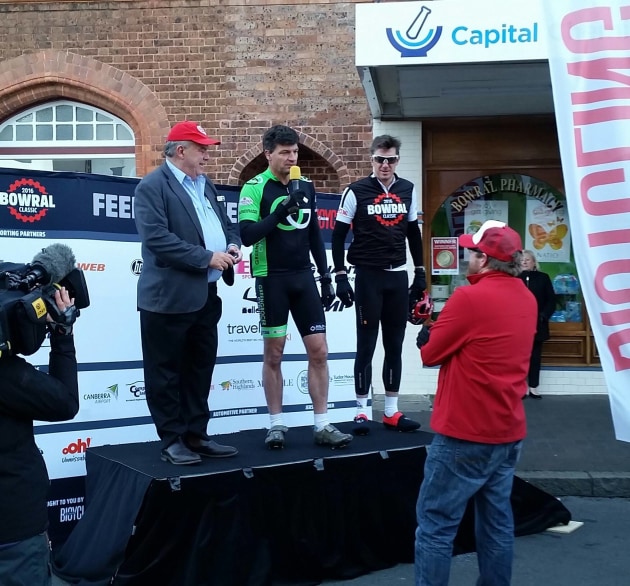 And his advice for others who may be struggling to find a balance between an enormous workload and precious bike time?
"Everyone's circumstances are different and we all have busy lives, but when it comes to health we shouldn't compromise," the Minister told us.
"Something is better than nothing. Whether it's a morning walk, a yoga class, playing cricket with the kids in the park … we should all strive for some form of regular physical activity and make the most of the opportunity when there is time. I always pack shorts and running shoes when I travel so I can get away for a quick jog between meetings or during a break."
The Southern Highlands is a region Angus Taylor is particularly passionate about and the Bowral Classic is an event the region – and himself – have warmly embraced. We asked what this third annual Bowral Classic meant for the Highlands.
"In just a few years, it's become iconic and that's due to brilliant marketing and a supportive Highlands community," he said.
"During the Bowral Classic weekend there will be several thousand of us and incredible economic spin-offs for the region as a result. And I know from talking to riders last year, many return for day trips or weekend getaways after discovering new places, new attractions while on the bike. So the benefits are sustained throughout the year and are felt across the region."
Minister Taylor's Tips For Bowral
He knows the region very well, so what are Minister Taylor's final tips for those making final preparations for Bowral this week?
"Expect a chilly start. Bring some warmers and a light jacket," he said.
"And don't forget the mechanical checks like making sure those bidon cage screws are secure and pedal cleat bolts are tight. Fresh batteries for the power meter and fully charging the computer is a good idea too."
With the third annual Bowral Classic taking place over the weekend of October 20/21, you can follow all the Bowral Classic action via the Bicycling Australia and Bowral Classic Facebook pages and other social accounts – just search #BowralClassic for the latest!
Bowral Classic This Sunday: Final Checks & What To Bring
With the Bowral Classic just days away you might be prepared for the Gran Fondo event, but is your bike ready and gear packed to go?
There's still time to make those final checks and to tick items off the all-important 'to pack' list!  If you haven't yet booked the bike in for a service you should clean and properly lubricate the drivetrain, check and adjust the hex bolts on all critical components such as the seat post, saddle clamps, stem, bars and brakes.
Talking brakes – check your pads or discs.  Want more info on ensuring your bike is ready? Peter from the Fixed Wheel Bowral has this helpful advice.
With the Classic a little over a week away is your bike ready for Bowral? We asked Peter at The Fixed Wheel Bowral his top 3 pre-event bike maintenance tips.Thanks Peter!

Posted by Bowral Classic on Thursday, 11 October 2018
What To Bring
Here's a handy checklist to help ensure you've got everything together for Sunday's big event.
Your bike – Serviced, the chain lubed, tyres properly inflated and all ready to ride.
Cycling Kit  – Suitable for the conditions – check our event Facebook page on Friday for the latest on the the Bowral weather and forecast temperatures. Socks, knicks, jersey, gloves and an under shirt is always a good idea.
Cycling shoes
Helmet
Sunglasses
Cycling cap
Photo ID
Chamois Cream (yes … Butt Cream).
Sun Screen
Multi Tool
2 X water bottles
Your fully charged bike computer
Nutrition – Muesli bars & nutrition products along with jelly sweets & bananas will be supplied at each rest stop along the way. In addition to this you may wish to bring any preferred nutrition or hydration required for your chosen distance. For more on fuelling for a Gran Fondo read this helpful article here.
Bike Pump  – One on the bike and a track up in the car for the pre-ride top up. There will be pumps available at the start area but be warned – it will be busy.
Coffee Money – There are many cafes in the Southern Highlands + plenty of coffee options near the start line as well.
2 x inner tubes – Riders should be able to change tubes by themselves. Not so familiar with this – it's a critical skill to have and it would be a good idea to practice before the event.
An air canister, cartridges & tyre levers.
Other than that, there's plenty of other helpful information here on the News section of the Bowral Classic event website. We look forward to seeing you on the weekend in Bowral!
Any questions? Message us via the Bowral Classic Facebook page or email [email protected]
Bowral Classic 101 + Cycling Secrets Of The Southern Highlands
Updated: Registrations for the Bowral Classic come to a close at NOON ON FRIDAY (October 12). There is still space available in the 90km Rouleurs Classic and the 120km Challenge Classic, however the other categories have sold out. To ride Bowral and experience this popular event visit the Bowral Classic website today! www.bowralclassic.com.au/pricing
The Bowral Classic is the jewel in the Gran Fondo crown, it's Bicycling Australia's signature cycling event, and regarded as the premier event on the annual 'must ride' calendar.
Come the weekend of October 20 and 21, the thousands of riders who've registered for this award-winning cycling spectacular will again descend on the stunning roads of Bowral and the Southern Highlands.
Bowral Classic: The Story So Far
First held in October 2016, the inaugural Bowral Classic was Bicycling Australia's first mass participation cycling event. With the objective of raising funds for charity while also providing a challenging and goal-oriented day out, around 3000 riders collectively raised more than $120,000 for those most in need. The Classic returned bigger and better in 2017, with more riders and ultimately more money raised for charity, bringing the collective total to over $250,000!
The Bowral Classic then won a number of major awards including Australian Event of the Year in two categories – Best New Event and Best Community Event, and has recently been nominated for yet more awards.
The popularity and success of the first two Bowral Classics led to both the Clare Classic in South Australia and the Noosa Classic in Queensland – both considered major successes and both scheduled to return, Clare in April 2020 and Noosa at a date to be announced soon.
The Third Annual Bowral Classic
Back bigger, bolder and better than ever, this year's Bowral Classic will feature a number of major changes. On Saturday afternoon teams of riders will gather at Bowral's Eridge Park Velodrome for a thrilling Team Time Trial event. Entry fees and all money raised from this will go to charity group RU OK?. You can read more about this and enter here.
On Sunday October 21 riders of the third annual Bowral Classic will have four ride options instead of previous year's three – the 35km Social Classic, 90km Rouluers Classic, 120km Challenge Classic and the big one, the 175km Maxi Classic.
Yet to register and want to know more about each ride? Let's take a closer look at each option.
35km Social Classic (NOW SOLD OUT)
This year's Social Classic offers a brilliant way to sample the Southern Highlands.
The 35km ride features an easy 353m of ascent. Riders will first visit the beautiful village of Berrima, here riders will stop in to one of the cafés to re-fuel using their voucher in exchange for coffee and cake.
Participants will then continue along the same route as all the other loops, direction Moss Vale. Once through this Moss Vale riders will then take the bike paths through Burradoo and Bowral, meandering toward to Expo Area at Eridge Park. Please note that the course is subject to changes due to various factors. Details can be viewed here.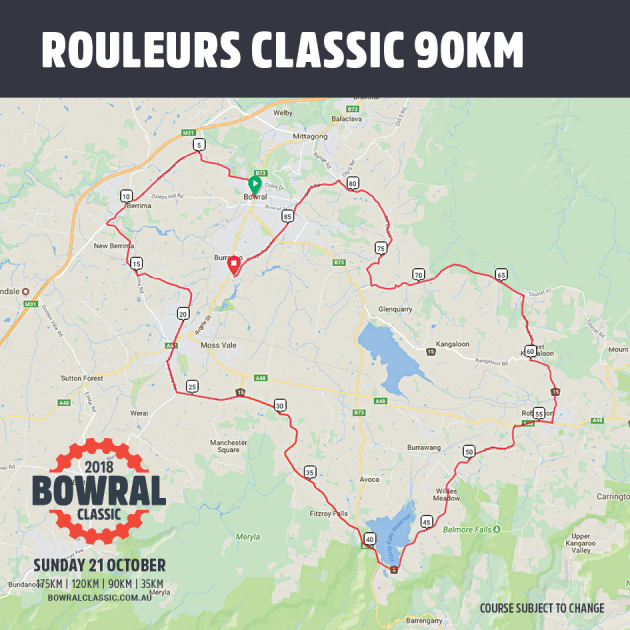 ROULEURS CLASSIC: 90KM
A brand new timed 90km course for 2018 will see riders pass through beautiful quaint towns of the Southern Highlands.
90km with 1142m ascent: That is still a lot of climbing! We are offering this as a timed ride. Riders will do a similar course to the 120km loop without doing the Bundanoon Loop. There is a still large sting in the tail waiting for you, many consider the last 40km to be much tougher than the first 'warm-up' 50km.
Like the 120km loop riders will pass through the beautiful village of Berrima followed by a fast section through to Rest Stop 1 which is located just outside of Moss Vale. After leaving the Rest Stop there is a non-timed section. Riders will turn left, missing the Bundanoon Loop and head to Robertson up the Eschappée which is the length of Myra Vale Road – more information here. 
CHALLENGE CLASSIC: 120KM
A brand new timed 120km course for 2018 will see riders pass through beautiful quaint towns of the Southern Highlands.
120km with 1429m ascent: Ready? If you have done the 120km at a Bowral Classic before you did not do this much climbing. This will be a timed ride again this year.
After leaving Bong Bong Street, riders will pass through the beautiful village of Berrima followed by a fast section through to Rest Stop 1 which is located just outside of Moss Vale. After leaving the Rest Stop there is a non-timed section. Riders will turn right and complete the Bundanoon Loop, going through this 30km loop riders will experience the beautiful Southern Highlands, including some short sharp hills. At Rest Stop 2, Exeter Oval, there will be water and bananas. Then riders will complete the Loop and head towards the Eschappée which is the length of Myra Vale Road – more information can be found here http://www.bowralclassic.com.au/the-course/challenge-classic/
The 175km Maxi Classic (SOLD OUT FOR 2018)
A revamped Maxi Classic course for 2018 will take riders through a 175km adventure that includes the rolling hills of Bowral, Berrima, Exeter, Robertson and Kangaloon.
The 175km includes 2097m of climbing! Clip in and get ready for a course which will challenge even the fittest of the bunch. Again starting on the historic main street of Bowral, we head out to stunning Centennial Road before turning left onto the Old Hume Highway.
Riders will head past Bendooley Estate, and as in the 2016 and 2017 editions turn right onto Greenhills Road for a match up with a little leg burner: Mt Misery….aptly named! At this point we are on route to Wombeyan Caves road where we, as in previous years, go out and back, a relatively fast stretch with limited elevation.

At the end of Wombeyan Caves Road we do our first new turn for the 2018 Bowral Classic. Riders will head right and back to Bowral, and as we turn left onto Centennial Road riders should be preparing for the first big climb, Oxley Hill, our official Bowral Classic Oxley Hill KOM/QOM.
More details and the GPX files here http://www.bowralclassic.com.au/the-course/maxi-classic/
Where Else To Ride
To get the low down on all things cycling in the Bowral region we spoke with event ambassador Harry Kooros, a local cycling legend and store manager of bike shop The Fixed Wheel Bowral.
Fozwat
Quite possibly the most ridden cycling route in the Southern Highlands, this is a 40km loop with approximately 400m of elevation. With a few rolling hills, it is not an overly difficult loop and will take the average rider between 1hr 15min to 1hr 45min to complete.
https://www.strava.com/activities/1227432770
Greenhills
Another common route ridden dozens of times per day by local riders, this loop traces the first quarter of the Bowral Classic Maxi Classic and is a challenging yet rewarding ride. It features several tough hills, but the breathtaking scenery makes it all worth while.
https://www.strava.com/activities/1061831593#26120343128
Macquarie Pass Return
This 75km loop is not an easy one, but is definitely a spectacular one. This route takes you from the height of Bowral (at 690m above sea level) to Albion park (at only 21m above sea level). You will descend the awesome Macquarie Pass (a 9km climb) and the challenging return climb. With a fair bit of elevation, this ride is a tough one and usually takes between 3 and 4 hours (including breaks).
https://www.strava.com/activities/151515485
Tallong Return
A relatively flat 100-120km out-and-back ride that takes you along some of the course of this years Classic. A few dead roads will test your patience but otherwise it's a very cruisy ride.
https://www.strava.com/activities/219258474
Avon Dam
This ride takes you up north to Avon Dam, where you will climb 3 short (3km) hills. You descend all the way to Avon and climb your way out. It is a very scenic ride.
https://www.strava.com/activities/221738508
Don't Miss The Event Village
The latest gear from a wide-range of the best suppliers in the industry will be on display at this year's Bowral Classic. This includes the famous Shimano display as seen at the Tour Down Under.
Shimano – the world's premium cycling component manufacturer – are a valued Supporting Partner of the event. The unmissable Shimano Australia mobile showroom will be set up on the Eridge Park oval on Saturday October 20 and Sunday October 21.
Toby Shingleton of Shimano Australia said the company's latest road, gravel and mountain bike offerings will be on display at the Bowral Classic, along with a number of eBikes available for demonstration rides.
"We will have the the new 105 disc on hand in Bowral – this will be fresh into the country and certainly something people will be interested in seeing," Shingleton told us.
"We'll also have an Ultegra RX disc bike there, along with all three road disc groupsets, plus some new MTB goodies. Basically participants can expect to see everything that is this season's latest from Shimano. We will also have around 10 demo STEPS e-bikes there for people to ride – this will be a broad representation of the brands and manufacturers using the Shimano STEPS system."
More Than Just Cycling
October's Bowral Classic provides the perfect opportunity for riders – along with their families and friends – to discover the wide-ranging delights of the beautiful Southern Highlands region.
So comparatively close to Sydney but genuinely feeling so far away, those heading to the region also have the opportunity to see and do so much more than the cycling – discover the region's cool-climate wines, fresh seasonal produce, spectacular waterfalls, amazing bush walking and pristine national parks.
There are quaint country towns to visit, relax in and explore, local cellar doors for wine tasting, historic colonial heritage to discover and Australian history to stand in awe of.
Top 5 Things To See And Do In The Southern Highlands
There's literally so much to do in this amazing region you'd honestly need a week to see and do it all. In no particular order here are some of the standout highlights.
*The Bradman Museum and International Cricket Hall of Fame, commemorates legendary Australian batsman Sir Don Bradman, also known simply as 'The Don'.
*A Short Drive Southwest of Bowral is historic Berrima and the convict-built Surveyor General Inn, a sandstone pub. This is a must-visit town that will truly take you back in time.
* Visit The Magnificent Fitzroy Falls in the vast Morton National Park. And near the village of Robertson is the splendid Belmore Falls. With a sub-tropical feel, these dramatic falls are a photographers, walkers and bird lovers paradise. There are also enjoyable bush walks, such as the Lovers Walking Track, and exhilarating mountain biking trails near Bundanoon.
*The Food And Wine experiences are delicious. The altitude is perfect for cool-climate wines, with plenty of wineries to visit. There are acclaimed restaurants, such as Biota Dining and Eschalot.
*Corbett Gardens becomes tulip central each September for the annual Tulip Time Festival. More than 100,000 splendidly coloured tulips bloom. This beautiful park is enchanting at any time of the year, with its seasonal colours.
For a full range of year-round activities see the Southern Highlands events calendar and plan your getaway today. You can also book your accommodation on the website – visithttps://www.visitnsw.com/destinations/country-nsw/southern-highlands/bowral today.
Last Minute Bowral Classic Prep With Junior Correspondent Maizy Evans
With less than two weeks until the 3rd annual Bowral Classic – and with registrations closing off at noon this Friday October 12 – our junior correspondent Maizy Evans has penned her latest column from Bowral.
By Maizy Evans
With less than two weeks to go it's time to put away the indoor trainer and get out and about on the roads of the Southern Highlands 
With entries still open in the Rouleurs Classic (90km) , the Challenge Classic (120km)  and limited places in the newest addition Velodrome Team time trial event, head over to the Bowral Classic website and get your entries in! But be quick … online registrations close at noon this Friday.
Why Not Be Extra Prepared? 
With bunch rides for men and women leaving the local coffee shop on both Saturday and Sunday why not also head down to the Southern Highlands this weekend. It's a great chance to witness the course and snap some killer views with the locals. Or, grab a few friends together and set out on the stunning course yourself!
Is Your Bike Ready?
Make sure to get your bike checked over by the team at The Fixed Wheel bike shop Bowral before heading out.
After grabbing your morning coffee at the local 'Mezza Bar' you can head out of Bowral passing through the wineries on Centennial Road, you then climb up a short pinch to the left before reaching the all famous Bendooley Hill.
After heading down in to the historic town of Berrima you can either make the right hand turn to loop around Greenhill's and up Mount Misery for the 175km Maxi-Classic and climb the annual KOM/QOM Oxley Hill or continue towards New Berrima for the other routes. Or, why not stop at one of the many Berrima cafes on your way through.
Riding The Highlands
After travelling towards New Berrima and heading in to Moss Vale, for the 35km Social Classic you can turn left and pick up a coffee at Moss Vale's 'Highland Merchant before cruising back along the family friendly cycle path to Bowral.
Alternatively you might want to tough it out and continue for the longer courses. You then  come to an intersection, as part of the 120km course you can take a sharp right turn and head out through Werai to Exeter and loop to Bundanoon and back or make a left turn to continue on the Rouleurs 90km course.
After about 6km travelling along the rolling hills of the Illawarra highway you make a sharp left turn on to the beautiful Sheepwash Road towards Kangaloon, you then make your way through Glenquarry and in to the small town of Wildes Meadow. 
Now here comes the challenge. Factory Hill is approximately 150m with a steep incline. After conquering Factory Hill and rolling over range road, you travel along the stunning roads of the Old South and make your way back in to Bowral.
Cycling Options Abound
As you can see there is a wide variety of challenges and stunning views to see whilst enjoying your ride and training for the Bowral Classic. 
For full route details, maps, registration and any other information check out the Bowral Classic Website and Social Media Pages.
The event is on Sunday October 21. See you here!
Maizy Evans
Junior Correspondent 
Two Weeks To Go: The Latest Bowral Classic News
This weekend marks just two weeks until the third annual Bowral Classic – here's the latest news.
Late pricing comes into effect from midnight Sunday. Register this weekend and we look forward to seeing you at the third annual Bowral Classic in just two weeks time!
The 175km Maxi-Classic sold out this week and entry to the 35km Social-Classic will be sold out and officially close at midnight on Sunday. Want to ride the Social Classic? You're better book now!
There are still places available in the 90km Rouleurs-Classic and 120km Challenge-Classic – but we'd suggest you register very soon to avoid disappointment and the Sunday midnight price rise.
The are still limited places in the Velodrome Teams Event, one of the most exciting new additions to the 2018 Bowral Classic. Again, full details about this can be read on the event website.
The fundraising clock is ticking! The days are counting down as the funds continue to rise and we really need your continued help with this. The Bowral Classic is all about supporting those who need it most. Let's band together and make this a record-setting Bowral Classic!
Haven't Register Yet? You Can Do So Here  http://bit.ly/1p1dMDd
Oxleys Hill Challenge Update: Top Times So Far!
The Bowral Classic Oxleys Hill Challenge is well underway with many Bowral Classic riders putting themselves deep into the hurt box for Oxley glory.
It is one of the Southern Highland's most lung-busting climbs, and literally just a few minutes ride from the centre of town – Bowral's legendary Oxleys Hill.
Why This Hill?
Unlike many other iconic KOM's that are located half way through a Fondo or out the back of nowhere, this one – the Bianchi King Of The Mountain on event day – is so accessible to town it's not funny. 
The Oxleys Hill challenge is open to all registered Bowral Classic riders & Strava club members – just complete the climb before 6pm Saturday October 20 for a chance to win one of two Thule vouchers valued at $500!
So what are the current top times?
Male
Dee Vero, September 16, 5min 46 seconds.
Pavel Pospisil, September 30, 6min 11 seconds.
James Yaffa, September 27, 6min 22 seconds.
Rob Johnston, September 30, 7min 25 seconds
Jason Kaul, September 19, 8min 34 seconds.
Female
Megan Scott, September 16, 5min 47 seconds.
Annett Happitch, September 29, 7min 46 seconds.
The most impressive two efforts will be selected – one male and one female – and those riders will each receive those Thule vouchers valued at $500. So warm up, get puffing, and take the Oxleys Hill challenge soon!
The challenge is open to all registered 2018 Bowral Classic riders and the prize will be awarded following Sunday's Bowral Classic. You do need to be a member of the Bowral Classic Strava club so we can see your times.