2017 Bowral Classic: photos
Bowral Classic Selected As Finalist At National Event Awards For Second Consecutive Year
For a second year running the Bowral Classic has been selected as a national finalist at Australia's premier event awards ceremony.
The Bowral Classic will go up against some of Australia's most significant and large-scale events in the categories of Best Community Event and Best Regional Event at the 2018 Australian Event Awards.
At last year's awards the Bowral Classic was crowned Australian Event of the Year in two categories – Best New Event and Best Community Event.
In winning those awards the Bowral Classic pipped several high-profile finalists including the Sydney Royal Easter Show and the Nitro Athletics series that starred the world's fastest man, Usain Bolt. Following on from that success the Bowral Classic later won a third major award – 'Event of the Year' at the coveted Australian Magazine Awards in Sydney.
Part Of The 'Bigger Bowral Classic Picture'
Event originator James Yaffa said nomination and award recognition was a nice compliment but just part of the bigger Bowral Classic picture.
"It's the riders, stakeholders and commercial partners that keep us motivated to continually do our best day in day out," he said. "None of this is possible without that support and we truly understand and appreciate that. Seeing such support and a big smile on the face of our participants is what drives us to go one better."
Event Has 'Earned Its Place Among Finalists'
Now nominated for its fourth and fifth major awards in just two years, the head of the Australian Event Awards said the Bowral Classic had earned its place amongst national finalists and has the weight of the industry behind it.
Sandy Hollway AO, Co-chair of the Event Awards Judging Panel and head of the Sydney 2000 Olympics, said entries would be judged on all aspects of event management including best practice, innovation, marketing, stakeholder engagement and management, sustainability and event legacy.
"The diversity of Australia's events industry continues to amaze me,"he said. "As does the ability of the Awards to put a spotlight on not just the incredible events and achievements which take place each year, but to draw out the challenges event organisers manage to overcome through determination, innovation, collaboration and resourcefulness."
Winners of the Australian Event Awards will be announced at a lavish Awards Ceremony on November 21 at Novotel Twin Waters on the Sunshine Coast, Queensland.
The 2018 Bowral Classic will be next held on the weekend of October 20 /21 with registrations still open – visit our homepage www.bowralclassic.com.au for details.
Exploring The Highlands: Top 5 Local Rides Of Bowral & The Southern Highlands
So you're planning a Southern Highlands escape for the Bowral Classic and keen to get to know the area better by bike, but where do you begin?
To get the low down on all things cycling in the Bowral region we spoke with event ambassador Harry Kooros, a local cycling legend and store manager of bike shop The Fixed Wheel Bowral.
Here are Harry's Top 5 local rides.
Fozwat
Quite possibly the most ridden cycling route in the Southern Highlands, this is a 40km loop with approximately 400m of elevation. With a few rolling hills, it is not an overly difficult loop and will take the average rider between 1hr 15min to 1hr 45min to complete.
https://www.strava.com/activities/1227432770
Greenhills
Another common route ridden dozens of times per day by local riders, this loop traces the first quarter of the Bowral Classic Maxi Classic and is a challenging yet rewarding ride. It features several tough hills, but the breathtaking scenery makes it all worth while.
https://www.strava.com/activities/1061831593#26120343128
Macquarrie Pass return
This 75km loop is not an easy one, but is definitely a spectacular one. This route takes you from the height of Bowral (at 690m above sea level) to Albion park (at only 21m above sea level). You will descend the awesome Macquarrie Pass (a 9km climb) and the challenging return climb. With a fair bit of elevation, this ride is a tough one and usually takes between 3 and 4 hours (including breaks).
https://www.strava.com/activities/1515154853
Tallong Return
A relatively flat 100-120km out-and-back ride that takes you along some of the course of this years Classic. A few dead roads will test your patience but otherwise it's a very cruisy ride.
https://www.strava.com/activities/219258474
Avon Dam
This ride takes you up north to Avon Dam, where you will climb 3 short (3km) hills. You descend all the way to Avon and climb your way out. It is a very scenic ride.
Climbs Of The Southern Highlands: Take The Oxley Hill KOM Challenge
It is one of the region's most difficult and challenging climbs, and its literally just a few minutes ride from the centre of town – Bowral's legendary Oxley Hill.
Specially renamed for this year's Bowral Classic, we're calling it  the 'WTF Oxley KOM'. At just over 1km in length it may not be the longest climb you've ridden, but we guarantee the wall that is 'WTF Oxley' will stick in your memory (and your legs) for a long time to come.
Why Is This KOM Different?
Unlike many other iconic KOM's that are half way through a Fondo or out the back of nowhere, this one is so accessible to town it's not funny. Hell, it's so close to town you may even want to roll down late in the day and suffer through a few repeats of  it just because it's there!
While it's super-close to Bowral – so close we are encouraging locals and event supporters to walk to the hill the cheers on the victims … er riders on event day, this KOM will greet Maxi Classic participants 65km into their event.
Just picture it … hundreds of cheering locals, ringing their Bowral Classic cowbells and shouting encouragement as you grit your teeth and search for the energy to post your best time up one of the most epic climbs in the region.
Take The Oxley Hill WTF KOM Challenge!

Take The Bowral Classic Oxley Hill Challenge & Win!Join the Bowral Classic Strava Club and ride Bowral's Oxley Hill anytime between now and 6pm on Saturday October 20.We will select the best two efforts – one male and one female – and those riders will each receive a Thule voucher valued at $500!This is open to registered 2018 Bowral Classic riders and the prize will be awarded following Sunday's Bowral Classic.And thanks to event ambassador Harry Kooros and our awesome friends at The Fixed Wheel Bowral for the local video content!

Posted by Bowral Classic on Friday, 14 September 2018
 Hot Tips On Oxley Hill
We asked event ambassador and gun local rider Harry Kooros his thoughts on the climb, and the tactics he employs to defend his 13th place on the climb on Strava.
"The infamous Oxley Hill is a deceivingly difficult climb," he told us. "At only 1.29km it'll feel 10 times that length. At an average gradient of 11%, you will climb nearly 140 meters in very painful 5-10 minute effort."
Harry told us many local riders try to avoid the climb because of how tough it is, but he can't.
As a life-long local and manager of The Fixed Wheel Bowral, Harry lives at the top of Oxley Hill. He rides 6-7 days a week and has to climb the hill to get home.
"The best way to post your quickest time is debatable," he told us.
"It's difficult to find a rhythm up this climb which makes it all the more painful. In my opinion you need to start easy…very easy. It may look short but it gets longer the more you keep riding. Each bend you go around you are shown what lays ahead of you next."
It Ain't Over When It's Over
Come event day on October 21, Harry said it's important to save fuel in the tank for what comes after the climb.
"Remember there is still over 100km of the ride to go once you reach the top so you don't want to be cooked," he said. "The numbing in your legs and the blood you are tasting in your mouth will be quickly forgotten as you summit the top and gaze your eyes across the vista of the town of Bowral and head towards the historic village of Berima."
At the top of the climb on event day there will be a sprint to the Bianchi KOM Arch. Here you may want to take a quick look around, enjoy the spectacular vista, and marvel at one of the most scenic hill climbs in Australia.
Take The Bowral Classic Oxley Hill Challenge & Win!
Join the Bowral Classic Strava Club and ride Bowral's Oxley Hill anytime between now and 6pm on Saturday October 20.
We will select the best two efforts – one male and one female – and those riders will each receive a Thule voucher valued at $500!
This is open to registered 2018 Bowral Classic riders and the prize will be awarded following Sunday's Bowral Classic.

Sponsor Focus: Bianchi AllRoad Tested In The Snowy Mountains
New bikes always generate a lot of online chatter but this one certainly seemed different – more emotion, more enthusiasm, more hype.
"This new Bianchi looks interesting," I thought, as I read the comments and drooled over the pictures on the ever-popular Bianchi Owners Club of Australia Facebook page. The bike in question was the freshly-released Impulso AllRoad, a major makeover to the company's existing AllRoad gravel bike.
The Bianchi Impulso AllRoad – the 130yo Italian manufacturers latest gravel / go-anywhere offering. Image Nat Bromhead.
Online discussion continued for days – 'looks great', 'I want one', 'how much?' were a few of the comments as a friend decided (sight unseen) that he'd order one.
Similarly surprised by the look of the bike, I phoned Bianchi Australia and asked if one was available for test. With snow forecast for the mountains on Friday, the plan was to take the AllRoad all road, or more accurately, off road.
Impulso AllRoad To The Snow
With the bike securely on the roof of the Skoda, I left Sydney at noon and pulled into the Jindabyne Hotel room at 6pm. One week ago I was riding in 35 degrees in Sydney yet zero was forecast for the mountains … with a new bike, all the gear and equipment you could ever imagine, the anticipation of the next day's ride was killing me.
Waking at 0600 I reached for the phone and saw that snow was still on the forecast. 'Areas above 1700metres from 11am' it read. Gearing up in a BBB Cycling jersey, jacket, long-fingered gloves, and face mask I finished breakfast at Jindabyne's legendary Red Door Cafe and started the long climb from 915m to Perisher at 1700m.
Fitted with a 32-11 cassette and 34/50 on front, the 10kg Bianchi Impulso AllRoad made comfortable work of the climbs. The Shimano 105 groupset and hydraulic discs performed admirably – having ridden my own bike with new Ultegra just days before, I couldn't feel any discernible difference between the two.
From Sunny Jindabyne To Snowy Charlotte's Pass
As a CX / gravel / go anywhere machine the Impulso AllRoad performed admirably as a road bike. Factory fitted with 35mm Kenda tubeless tyres (and space for 40c's), I was dubious about the tyre's abilities on the road but pleasantly surprised after the numerous climbs and descents between Jindabyne and Charlotte Pass.
The GPS was reading a temperature of 2 degrees as cold, sleety rain started to fall on the way up the climb. Into the headwind the bike and I battled on as the temperature continued to drop. And sure enough, soon after passing Perisher, the first few snowflakes fell.
Having been on bitumen all morning it was time to put the AllRoad through its paces. I turned off, crossed some gravel then grass, and headed toward the nearby snowfields.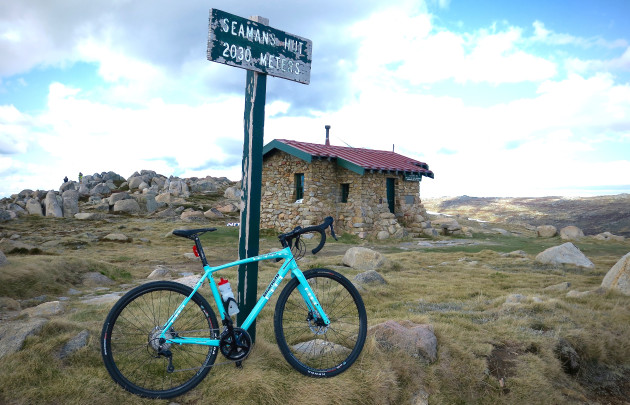 The bike revelled in the snow, ice and gravel and was an absolute treat to explore the area aboard. Later, hooking up with the local  MTB and fat bike crew, I was surprised to see so many (well 6 or 7) fellow riders up there using bikes in the snow.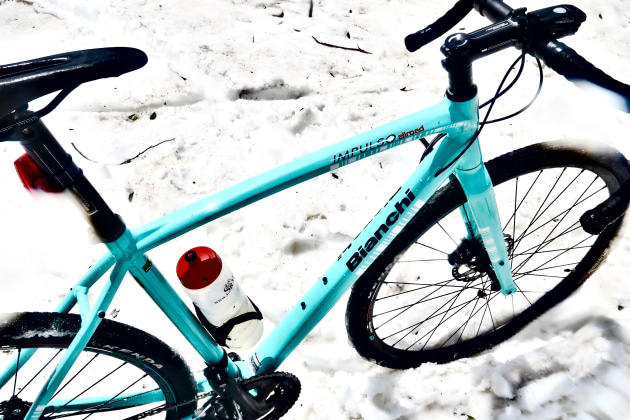 As a road / gravel / go anywhere bike this new offering from Bianchi certainly ticks all boxes. It looks great, is well engineered, perfectly finished and comes with the 130+ year pedigree of one of the world's most respected manufacturers.
Eats Up Long Fast Descent
Time to return from the rooftop of Australia back to Jindabyne, and this 'all road' bike handled the 1100m / 35km descent surprisingly well. 'This will be a fascinating test,' I thought, as I started pedalling hard and accelerating into the cold, late afternoon air. I've got to mention the wind and waterproof BBB Controlshield jacket, face mask and long-fingered gloves – without this gear the ride home would've been absoloute hell.
With it's faultless flat-mount disc brakes, stability and assurance of thru axles and beefy 35mm tyres, the Impulso AllRoad handled the mountain descent surprisingly well. Dropping onto the top tube on a few occasions – sternum resting relatively comfortable on the stem – I couldn't help but be impressed by this machines ability to masquerade as a serious all rounder.
 Summing Up
Quality: The triple hydro-formed aluminium is stunning – during time with the bike several people flicked the frame with a finger thinking it was carbon. Overall the AllRoad is very well finished.
Performance: A genuine go-anywhere all road machine, the bike performs well in a wide variety of terrains. At a touch over 10kg it's an all-round performer.
Value For Money: At $2999 there's great value here. With Shimano's refined 105 groupset, hydraulic discs and bombproof wheels, this is a serious N+1 temptation.
Overall: It looks good, goes well and screams 'adventure'. Considering the bike's ability, finish, price point and pedigree, it's certainly one of the more interesting releases of 2017.
Specifications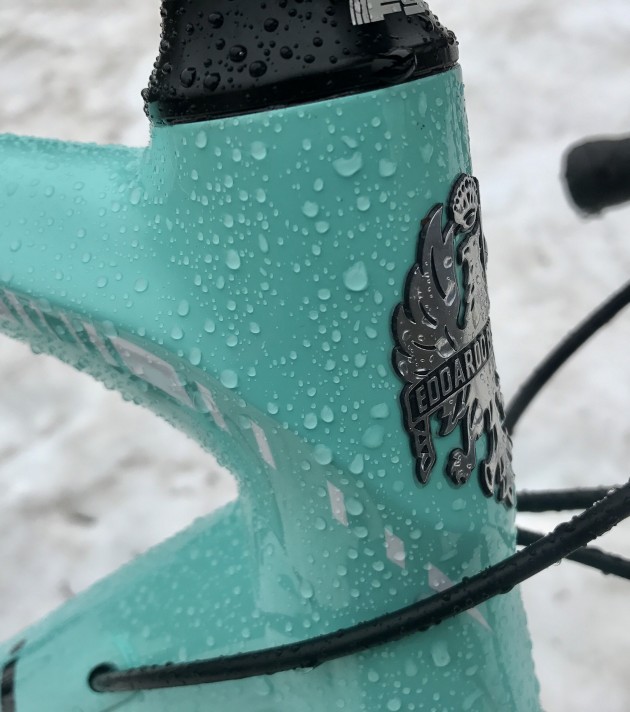 Groupset: 105 11sp Hydraulic Disc
Sizes: 47-50-53-55-57-59-61-63
Frame: Triple Hydroformed Aluminium
Seatpost: 31.6mm,
Axles: Thru axle 12x142mm
Fork: Bianchi Full carbon – 40mm tyre compatible,
Shifters: Shimano 105 11sp
Crankset: Shimano FC-RS510 50x34T ,
Crank length: 170mm-47/54cm, 172.5mm-55/59cm, 175mm-61/63cm
BB: Shimano SM-BB72-41B, PressFit
Cassette: Shimano 105 CS-5800 11-32T
Brakes: Shimano BR-RS505, Flat mount
Rotors: Shimano SM-RT70 160mm
Wheels: Reparto Corse CDX22 Disc
Tyres: Kenda Flintridge 700×35
Stem: Reparto Corse 3D forged Alloy 100mm-55cm
Handlebar: Reparto Corse Aluminum, reach 70mm, flare 16°, 130mm x 42cm
Seatpost: Reparto Corse AL6061, 15mm offset, 31,6mm. 350mm in size 50/63cm
Saddle: Selle San Marco Era Startup Power Open
RRP: $2,999
Supporting Chris O'Brien Lifehouse With Bike Odyssey And The Bowral Classic
A rider with us before, a rider he will be again. A friend, a comrade in the saddle, as brave as a lion. We want to support our Richie and make a difference to a very worthy cause. Please read his words below.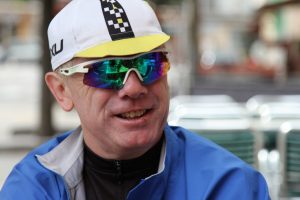 "The Lionheart, Richard I, was the second son of Henry, who rose to be Monarch of the Plantagenet empire in his mid-twenties. Richard led the 3rd great crusade and was renowned as a warrior and leader, loved by his subjects and revered by his enemies. A King of England that never spoke the language. A King that never shied from a challenge, or a worthy cause:
There is no greater champion than Chris O'Brien Lifehouse in the battle against cancer.
Chris O'Brien Lifehouse is a not-for-profit organization dedicated to the treatment and care of those people and their families, affected by this insidious indiscriminate disease.
I know. I'm one. So, take up the challenge – ride with Sam and I and become the cycling warrior you always wanted to be.
Follow in the footsteps of the Lionheart, and join the crusade against cancer; be inspired by the people you meet, the places you see, the challenges you'll face and the lives upon which you will have a positive impact."
Richie.
The Chris O'Brien Lifehouse
Chris O'Brien Lifehouse is a not-for-profit, independent comprehensive cancer centre, offering everything a cancer patient needs in one place, including advanced surgery, chemotherapy, radiation therapy, clinical trials, research, education, complementary therapies and psychosocial support. You can support the Chris O'Brien Lifehouse simply by selecting them as your chosen Bowral Classic charity partner.
Bike Odyssey is an official fundraiser for the Chris O'Brien Lifehouse and as such will donate for every guest on tour. If you wish to raise money independently for the Lifehouse we can also facilitate this.
Tyre Talk: Pro Advice From Schwalbe On Going Tubeless For The Bowral Classic
Thought about simplifying your cycling and going tubeless for this year's Bowral Classic? Event partners Schwalbe have provided fascinating information on all you need to know about this popular and potentially time-saving trend.
Schwalbe have tested the vast majority of the most common road wheels available and compiled comprehensive data on their tyre's compatibility with each rim.
In compiling the list Schwalbe used assessment criteria that included –
Mounting – h

ow easy is it to mount a Schwalbe road tire to the rim.

Inflation – How easy is inflation and is an air pump sufficient?
Derailing Safety Schwalbe say that with safety their prime concern, some wheels did not achieve the highest safety levels. "Nevertheless, these wheels can be well suited for tubeless use if the wheel manufacturer's maximum air pressure is taken into account," said Schwalbe. "These tyres must not be inflated to the maximum pressure indicated on the tyre."
Want to check if your wheelset is on the list? A link is at the base of this article.
Schwalbe Pro One – The World's Fastest Tubeless Road Tyre
You'll be riding the roads of the Southern Highlands and Bowral so why not go for the best tyre on the market! The next generation of tubeless tyres, Schwalbe's Pro One, offer a comfortable and thrilling ride. It's a fast tyre, and extremely reliable.
Available in 23, 25 and 28mm widths, it's also a lightweight tyre, well proven, and has become immensely popular among Classics events riders.
The Schwalbe One Pro can also be used with an inner tube fitted, but its true strengths are experienced when set-up tubeless.
Those who have experienced this tyre will no doubt agree the rolling resistance is minimal, Schwalbe's  patented MicroSkin construction helping make this possible.
The cut resistance and puncture protection are of a high standard, and when fitted in combination with the company's 'Doc Blue Professional Sealant' this is super reliable and the absolute top model from Schwalbe.
For the latest news on Schwalbe follow Australian distributor Bike Box on Facebook.
Pedalling For A Vital Cause: The Leukaemia Foundation & The Bowral Classic
'Love, Sweat & Tears' – the three key words the Leukaemia Foundation of Australia use to sum up the tireless work they do.
Come October 21 we can legitimately add 'Gears' to the list, with the opportunity for Bowral Classic riders to raise funds for the valued organisation.
Leukaemia, lymphoma and myeloma are all types of blood cancer that can develop in anyone, of any age, at any time. Another 35 Australians are diagnosed each and every day.
The Leukaemia Foundation is the only national charity dedicated to helping those with leukaemia, lymphoma, myeloma and related blood disorders survive and then live a better quality of life.
Each year, the Leukaemia Foundation gives families facing blood cancer the emotional and practical support they need, along with investment in vital medical research to help more people survive and ultimately beat blood cancer.
Having partnered with the foundation, you can now ride the Bowral Classic knowing you are helping this vital community organisation.
For more on the work of the Leukaemia Foundation of Australia – or to donate, fundraise or volunteer with the organisation, visit https://www.leukaemia.org.au
Athletes Gel Can Help Make All The Difference At The 2018 Bowral Classic
Take a quick look at the Facebook page of our sister event the Noosa Classic, and you'll see what riders are saying about Athletes Gel. Many are singing the praises of this Australian made, all natural topical ointment that really can benefit your cycling.
Athletes Gel is a pre and post-ride and training gel that is the result of several years of research and development. It is designed to assist in the reduction of external pain symptoms, bruising and inflammation, and is based on the natural ingredients used in the formula and their traditional history of use.
We are pleased to announce it will be available for trial and purchase at the massage tent area of the Bowral Classic event village!
Four Natural Ingredients
The ingredients include wintergreen, capsaicin, arnica and clove, and – according to those who have used the product – the response and results are nothing short of phenomenal.
Chris Miller, the well-known Sydney rider and leader of Nero KOM Racing, will be at the Noosa Classic with four team members. He has been using Athletes Gel for the past few months and says it's now an important part of his pre and post-ride routines.
"We initially started using the product to assist with recovery, especially on back-to-back race weekends," he told us. "However, after the success of that method and with the onset of winter, we've been using the gel as a pre-race ointment to warm the legs up," he continued.
Team rider Angus Calder also sings the product's praises, saying it helped him through the bitter cold of winter.
"Cold mornings are definitely not as painful as they used to be with the use of the gel," he said.
"Once the gel is activated you get a solid 30-40min of warmth, enough to get you through those first few painfully cold kilometres."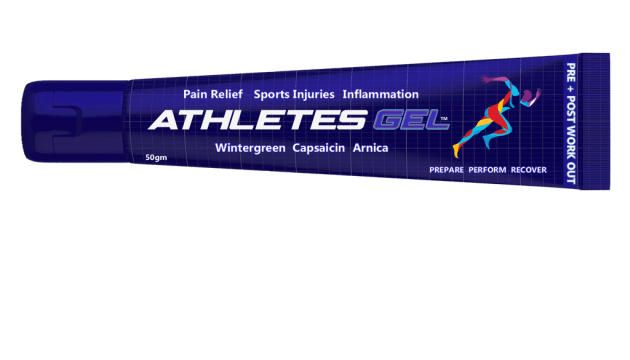 Three Common Questions
What makes Athletes Gel so good? It's an Aussie made product containing all natural ingredients and also Paraben-free. It consists of four active ingredients and the quality and quantity makes it one of the strongest available products anywhere in the world.
Does Athletes Gel pass WADA and ASADA testing? Yes. The Athletes Gel formula has been successfully tested internationally and has passed anti-doping authority check lists for banned substances.
Is Athletes Gel TGA approved? Yes. It is fully certified with Therapeutic Goods Australia (TGA). License Number – AUST L 295444.
Pre Ride, Post Ride & Pain
Along with the warm up benefits the product is described as greatly assisting in the relief of pain and helping with quicker recovery.  As more people hear about the revolutionary gel, more are offering their unbiased reviews with some recent online samples including –
Andrea Killen: Fabulous product – it has really helped my old knees.
Cooley John: Gets me through training, love it!
Wam Pembroke: Having undergone 5 major spinal operations, I need to keep everything moving and keep strengthening my core. I use Athletes Gel before morning stretches, Pilates classes and the gym. I know it gives Athletes the Edge but AG is my partner that help keeps me moving. Thanks guys, a life-improving product!
Bicycling Australia have partnered with the Aussies behind Athletes Gel – the product is being offered to Bowral Classic riders via a unique online sales portal. Click here to find out more and order your Athletes Gel today.
#Bianchi4Bowral – Win A $4599 Bianchi Aria With The Bowral Classic
It's Back! 2018 Bowral Classic participants have the opportunity to win a brand new Bianchi in the second #Bianchi4Bowral photo challenge.
The bike is a stunning Bianchi Aria Ultegra with a RRP of $4599 and courtesy of event supporting partners Bianchi Australia.
To win this bike simply post an image of YOU AND YOUR BIKE to Instagram and use the hashtag #Bianchi4Bowral. The image will be reposted to the Bowral Classic Facebook page – from there you can share it far and wide to maximise reach and likes!
Entries are open until Sunday October 14, one week before the Bowral Classic.
Five finalists – the five images with the most Facebook likes – will be announced after the competition closes. The final winner will be judged by organisers and announced at the event village after the Bowral Classic on Sunday October 21.
The competition is open to all registered participants of the 2018 Bowral Classic and the bike is a Black Bianchi Aria with a Shimano Ultegra groupset valued at $4599.
To enter simply upload an image of yourself and your current bike to Instagram and use the hashtag #Bianchi4Bowral. This image will automatically appear on the Bowral Classic Facebook page – and from here you can share it to your friends, family and followers.
The top 5 photos – those with the most likes – will go into the final draw with the winner announced at the event village after the 2018 Bowral Classic and the winner must be available at the event to claim the prize.
The winner must be available to collect the bike from a Sydney Bianchi outlet to be advised.
Additional Bike Details
'The Bianchi Aria is the latest bike in Bianchi's traditional race bike family. It offers the same geometry as the Oltre series bike or the Specialissima. This geometry guarantees that the bike is moving fast, agile and highly reactive. The Aria is built of high-end carbon fibre. The construction follows the latest wind-tunnel tested aerodynamic insights. The Aria is a thrilling bike that fascinates from the first moment on.'
Smile For Smiddy As You Fundraise For The Mater At This Year's Bowral Classic
The Bowral Classic is thrilled to announce a new charity partnership with highly-respected charity group, Smiling For Smiddy.
Many Queensland-based Bowral riders will be familiar with Smiling For Smiddy – since 2006 Smiddy riders & supporters have raised over $7 million for cancer research at Brisbane's Mater Hospital.
These funds have helped enable breakthrough research, major discoveries with the potential to save lives.
Select 'Smiling For Smiddy' As Your Chosen Bowral Classic Charity
This year the charity objective is to raise a staggering $1.3 million for Mater Research – and to do that they need your help.
You can select Smiling For Smiddy in the charity recipient menu when you register for the October 21 event. Share your choice on social media and tell fellow riders you are supporting the essential research at the Mater.
About Smiling For Smiddy
Adam Smiddy never had an enemy in the world. His disarming smile, one that rarely left his face even amid the gravest of circumstances, gave his family and friends a window into the soul of a gentle, kind-hearted and unassuming boy from Home Hill.
In 2006, Adam passed away from an aggressive melanoma. He was just 26 years old, a talented triathlete and respected physiotherapist with the world at his feet.
Six months earlier, Adam had discovered a small lump in his groin, and a biopsy revealed it was a malignant melanoma. He had immediate surgery to remove the lump and his lymph glands.
Gradually over a six month period, Adam's health and fitness started to return. Sadly however, it was not to be.
During a bike ride with his close friend and triathlon coach, Mark 'Sharky' Smoothy, Adam confessed he was not feeling well. Just over three weeks later, Adam passed away.
1600km From Brisbane To Home Hill
To honour Adam, in that same year Sharky and two other mates Ron Steel and Oliver Bodak, fulfilled one of Adam's unrealised dreams.
They rode 1600 km from Brisbane to Adam's hometown Home Hill, nothing but a credit card in their back pockets, and raised $24,000 for cancer research in the process.
The next year 22 friends joined the ride. In 2008 there were 50 riders, who together raised an incredible $420,000 for cancer research.
Over the past ten years supporters have raised over $7 million for cancer research at Mater. That's an incredible effort, but there is still so much more to be done.
Select Smiling For Smiddy As Your Chosen Charity When You Register For The Bowral Classic.