2017 Bowral Classic: photos
Scicon's Race Rain Bag: A Practical & Versatile Way To Keep Your Kit Together
The Bowral Classic is thrilled to this year have the support of Scicon, creators and purveyors of some of the most practical and purpose built cycling travel accessories on the planet. Here we take a look at the legendary 'Race Rain Bag', a tardis-like accessory that keeps all your kit together so it's ready to go at a moments notice.
You know the feeling … the weather's clear, time's on your side and you're busting to get out on the bike. But you can't find one of your socks, that left hand glove or the lightweight vest.
But place and pack your cycling gear in the Scicon Race Rain Bag and that will all be behind you. This is the gear bag the pros use, it's a bag designed by cyclists for cyclists and features pockets, sections and compartments for all your essential gear.

Pack the Scicon race rain bag properly and you'll even be able to fit your helmet inside!
Look into many of the team cars at the Tour Down Under or Tour de France and one of the first things you'll see is neatly stacked Scicon bags. Why? Because they help save time,  keep kit complete, and offer incredible organisation. Preparation is a critical factor of success – and these bags can greatly reduce or completely eliminate that dreaded 'faf about' or 'can't find it' factor.
Made Tough
Not only do the bags greatly assist organisation, they're also made to last. Constructed of a strong, versatile and easy to keep clean black ripstop material, the bag can be wiped clean and – speaking from experience – looks brand new even after close to a year of regular use.

A high-quality product, the Scicon Race Rain Bag features light yet durable rip-stop canvas and heavy duty zips.
Compact in size and with six clearly marked and tabbed pockets (one at each end, two on top and two underneath), the race rain bag is surprisingly cavernous. Upon first preparing to pack it I was dubious about how much I'd be able to cram inside and did not expect to get the helmet in. Alas … it's packed, as you'll see in the checklist below.
From a simple weekend ride, to a trip away, Gran Fondo event such as the Bowral Classic, training, travel or racing – the Scicon Race Rain Bag has quickly become one of my most trusted and relied upon cycling accessories.
A tip after almost a year with the bag – sit down and spend 15 to 20 minutes ensuring everything's together and neatly packed inside, leave the bag near the door or in the car, and rest assured you'll have everything ready for your next ride.
What's In The Bowral Classic Race Rain Bag?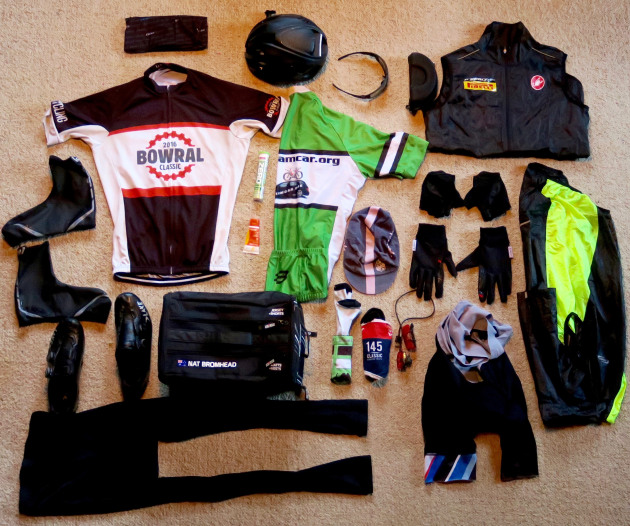 2 x Jerseys
1 x Bib Shorts
1 x Bib Longs
2 x Short Finger Gloves
2 x Winter gloves
2 x Baselayer T-Shirt
1 x Rain vest
1 x Cycling Cap
2 x Wind Vest
2 x Arm Warmers
2 x Pairs of Socks,
1 x Pair of Bont Cycling Shoes
1 x Weather proof shoe covers
1 x Small tube Sunscreen
1 x KASK Helmet
2 x Sunglasses
Dimensions: Length 37cm x Depth 24cm x Height 21cm. The empty bag weighs 450grams. Race rain bags are available in selected local bike shops and can also be ordered online.
Bowral Classic Checklist: It's Time To Book Your Accommodation!
Perfectly named and perfectly located, it's little wonder the Southern Highlands is one of the most popular short break destinations in New South Wales. 
Add to that the standout cycling, arguably some of the best roads, most challenging climbs and spectacular scenery in the entire state, and it's no wonder the annual Bowral Classic draws in excess of 3000 riders.
With many of those participants – along with their families and friends – opting to stay in Bowral and make a weekend of it, in it's first two years event participants booked much of the region's accommodation out.
The Countdown Is On
Four months out and counting, now's the time to not just think about but secure your accommodation for the October 20 / 21 event.
With the packed event village open all day Saturday, the thrilling new Team Time Trial racing at the Velodrome adjacent to the village on Saturday afternoon, then the 3rd annual Bowral Classic from 6:30am Sunday, it makes sense to stay for the weekend.
With literally hundreds of accommodation choices on offer, here we take a look at two diverse options – Bendooley's Estate and 'Glamping' with the Simple Pleasure Camping Company. 
Bendooley Estate
Experience the ultimate Southern Highlands location, accommodation and more. Enjoy glorious vistas of the serene lake, valleys and groomed gardens. There is fine dining on site, a stunning cafe, and of course Berkelouw Book Barn which houses the estate's revered restaurant and bar.
Overlooking the Bendooley Estate vineyard, the Cellar Door is a captivating space for wine tastings and relaxation after a busy day cycling and exploring the region.
Individually designed, the inviting interiors of each of the luxurious cottages is an elegant harmony of rustic and glamour, featuring upholstered furniture, bespoke wallpaper and artwork, heated hand-made tiles and deep free-standing baths. Choose from our fabulous one, two and three-bedroom cottages – enhanced by the picturesque surroundings.
Reservations are essential and there's a 15% discount for any 5-nights stay. Call 0427 318 007 for more information or visit their website here. 
Luxury 'Glamping'
Enjoy billion star accommodation with a luxury camping package from the Simple Pleasures Camping Company at the Bong Bong Racecourse in Bowral.
Stay in the Glamping with 2-4 people per tent for just $190 per night / twin share.
Located an easy 5 to 10 minute drive away from Bowral's Town Centre, this is the ideal location to base yourself during the activity-packed Bowral Classic weekend. Let the friendly Simple Pleasures team take all the hassle out of your Bowral Classic camping weekend.
The glamping package Includes a spacious 5m Bell Tent fully set up and fitted out with Persian entrance rugs, a choice of either inflatable queen mattress or single self inflating foam mattress made up with fresh linen, quality bedding, duck down pillows, bamboo patio matting, solar and powered lighting.
You'll also have exclusive use of communal cooking area that includes gas cookers and all cooking equipment, hot showers and toilet blocks. For details and bookings visit the website here.
Visit The 'Destination Southern Highlands' Website Today
Of course there are plenty more accommodation options throughout the Bowral region and Southern Highlands as a whole. But it would certainly pay to book early!
Visit Destination Southern Highlands and secure your accomodation today – you can take a look at many of the accommodation options and book online via this helpful link 
Training Talk: Five Tips For Better Bowral Classic Training
Just four months out from the 2018 Bowral Classic and one thing's for sure – the time will absolutely fly by. Our days seem to be constantly busier, the weeks feel more like fortnights, and October 21 will be here in a flash.
With that in mind now is high time to plan your training schedule, consider your ride regime, and ensure you're in fantastic form prior to the third annual Bowral Classic.
While winter may not be the most appealing time the year to be preparing for an event such as Bowral, here are five tips to help boost your mojo and get you off to a solid start.
1: Ensure A Proper Bike Fit
For a long day in the saddle you need to be as comfortable and efficient on the bike as possible. It's critical to get your bike fit sorted before you commence a solid training block. This is where Bowral Classic partners The Body Mechanic can help – see the full article on their services here – we can't speak highly enough of their professionalism and the performance improvements that are possible.
2: Service Your Steed
How long since your bike was last properly serviced? Mechanical problems generally creep up slowly … you might not even realise but before you know it there may be ten wasted watts or more through your drivetrain alone! While you're in there getting a bike fit why not treat your bike to a full service and check up.
3: Make A Plan / Ride With Mates
Put together a training plan to work out the amount of preparation you need to do for your chosen distance. Never ridden a century but using the 90km or 120km events to help achieve the goal?
Work to it gradually – starting with 50km, then 75 km, then the big one, the 100km. Look closely at the elevation you are training on and try to incorporate similar course elevation to that of your chosen course.
4: Stick To Your Goals
Planning is a critical component of success. Set your goals and stick to them using helpful apps such as Strava, Garmin Connect or Map My Ride. Logging your hours or kilometres even via a simple note on the fridge can help you stick to your end goal. Make a pact with riding buddies, stick to not only meet ups but your individual and weekly targets, and steadily build strength and form so you're best prepared for the October 21 event.
5: Ride Inside
We agree winter mornings are not terribly conducive to being outdoors. Fortunately we riders can now enjoy the luxury of having the most technologically advanced training systems easily available indoors.
Platforms such as Zwift make winter training enjoyable, competitive, motivational and productive!
Combine a smart trainer with an online training platform and you can (virtually) ride the world. For more on indoor training see this helpful article over on the Bicycling Australia website.
Other than the training, the most important part of the Bowral Classic is to sign up today and start raising funds for your chosen charity – register for the ride here.
Hand Cyclist Powers To Bowral Classic Glory
His derailleur failed half way through the ride but nothing was going to stop hand cyclist Ricky Small from finishing his first major cycling event, the 2017 Bowral Classic.
Speaking with Ricky after his completion of the 45km course, his enthusiasm and love for his new-found sport was absolutely infectious. As we chatted his proud support crew were watching on – close family and friends in Bowral to watch him cross the finish line.
Paralysed After Mining Accident
Ricky was involved in a shocking mining accident in Lightning Ridge 11 years ago and is paralysed from the chest down and can't raise his left arm above shoulder level.
"My spine was broken from T8 to T12, he said. "Both my femur bones were sticking out and both my ankles were broken off, they had to sew them back on." He went on to explain how the shocking underground accident occurred, a ladder coming away from a shaft wall that led to him falling 75 feet.
In Love With The Sport
Jump forward more than a decade and we're speaking with a beaming Ricky near the finish line of a Grand Fondo cycling event – a sport he took to just 3-months earlier.
"I've always wanted to get into this but never got around to it until recently," he explained. "It's the first time I've ever done a ride like this, I've only had a little bit of training. I started hand cycling about three months ago and absolutely love it."
"But I didn't love it when my gears busted going up Bendooley Hill," he continued. "That was really tough, I had to do it single speed – I didn't think I was going to make it."
Clearly addicted to the sport, Ricky's now facing that constant dilemma that affects most of us involved in the sport – he wants another bike.

Ricky Small with ride Ambassador Matt Snowden – Ricky took up hand cycling just three months ago and is now eager to upgrade to a faster and lighter machine. Image: Nat Bromhead.
"I've got to get a better cycle though, this monster's very heavy duty," he said with a laugh.
"I want one of those lower profile hand cycles, one with the lighter racing wheels. I'll definitely be back here next year … but on a better hand cycle," he insisted.
In the lead up to the Bowral Classic Ricky took part in a 20km hand cycle criterium event at Sydney Olympic Park as part of NSW Bike Week.

Southern Highland's cyclist Matt Snowden encouraged & assisted riders in the Bowral Classic's 45km Social Classic.
"That was last Sunday and was the first group ride I've ever done," he said. "But it was easy compared to this."
As he looked across at the semi circle of proud family and friends, Ricky thanked them for their help.
"I couldn't have done it without all these people," he said. "They were all with me from the start, when I had the accident, and have been sticking by me ever since."
Ambassador Rides With Ricky
Bowral Classic ride ambassador Matt Snowden enjoyed the pleasure of cycling alongside Ricky for the second half of his ride. A Southern Highlands local, Snowden's job was to lead out the Social Classic ride and provide support and assistance if required.
"The first guys finished the course pretty quickly," he said. "Then I doubled back to see if there was anyone in need of assistance."
"When Ricky's gears were playing up those last hills were pretty hard," he continued.
"He was very determined to do it all by himself – lots of stop start on the hills, but he put in an amazing effort – it was great to ride across the line alongside him."
The 2018 Bowral Classic will be held on Sunday October 21 – visit www.bowralclassic.com.au/pricing to register  
Video: New Cycling Shoes For The Bowral Classic? Bont Have The Answer
From a thought bubble, to prototype, to extensive testing, eventual production and finally receiving high accolade at the world's biggest bike show, the Helix has been a major success for Bont Cycling.
But as Steven Nemeth of Bont explained, this one's not so simple.
"We worked extensively on this project and are very happy with how it's turned out," he said.
"For us integration with the shoe is the big thing," he continued. "We wanted to put a shoe together that really could become a part of the riders' foot. In most traditional types of shoes you'll have a ratchet system that essentially pulls the upper tight, across the top. What we wanted to do was get something that would work around the whole foot and basically pull the shoe around it rather than just applying localised tension."

The Aussie cycling shoe company going global – Bont Cycling's display at the world's biggest bike show, EuroBike.
Wire cabling from a single BOA dial routes rearward, down the side of the shoe and into a tube where it's guided around the carbon soul before making the return loop the the closure. It's one of those design concepts that make you think 'why wasn't this done earlier?' But, as Steven explained, turning the design concept into reality was both challenging and complicated.
"The foot's not the easiest shape to shape to work around," he said. "Especially with the various bone structures. But we managed to get around it and it now works quite nicely. What it does is spread the load across the foot in a thorough way. There's no spot tension, it's a very gradual and very comfortable pull. It makes you feel even more part of the shoe than ever before."
Read more of this article here – and we'll have a full review of the Bont Helix here on the Bowral Classic site shortly. 
New shoe day!Unpacking the Bont Cycling #BontHelix premium level shoe.We'll take a close look at the unique lace and tensioning system in the next video. A full review of these and the Bont Riot Plus will feature on our website soon💥🚴🏽

Posted by Bicycling Australia Magazine on Thursday, 31 May 2018
'The Body Mechanic' Offer Special Deal For 2018 Bowral Classic Riders
The team at the Body Mechanic in Lavender Bay have put together a special package specifically tailored to help Bowral Classic riders prepare their bodies and bikes for the October 21 event.
Including a Bike Specific Body Assessment, Professional Bike Fit and Deluxe Bike Service, this all-encompassing package is normally priced at $529. For registered 2018 Bowral Classic riders that price is dramatically reduced to $350. The package includes:
A Bike Specific Body Assessment
The Bike-fitting specialists will perform a thorough biomechanical body assessment, where aspects such as hamstring length, lower back stiffness, hip mobility and pelvis stability are measured. From this assessment they will determine the key exercises that are specific to your body and will help to improve both your comfort and your performance on the bike.
Bike Fitting Session
Sydney's bike-fitting specialists will then take you through the Body Mechanic bike fitting process which involves setting you up in a comfortable, efficient and sustainable riding position. Comfort on the bike is vital to allow you to train consistently for an event like the Bowral Classic. An efficient position is one that is specific to your body. The team will take into account the findings from your body assessment to help determine the best possible position for you.
Deluxe Bike Service
There is nothing worse than riding a bike with a creak, groan or with gears skipping. An expert bike mechanic will perform a deluxe bike service and get your bike running like new again.
At the end of this Body Mechanic Triple Package you'll ride away in the best possible position for your body. You will have an easy body maintenance routine to follow to ensure you are able to ride to the best of your ability.
The Body Mechanic is located under the northern approach to the Sydney Harbour Bridge at Bay 10, Middlemiss Street Lavender Bay 2060. For bookings or enquiries, call the friendly team on 9955 5842 or email [email protected] and quote 'Bowral Classic'.
Staying Warm While Retaining Form This Winter + Win With BBB Cycling
Each and every year it's a similar challenge, one as difficult to uphold as it is to get your head around.
Maintaining a personally acceptable level of bike fitness despite the colder weather, darker starts and half frozen fingertips.
Staying warm, dry, safe and seen is a critical part of cool-season cycling and with the third annual Bowral Classic less than 5-months away, now's as vital a time as any to continue your training.
With that in mind we have 5 helpful winter training tips along with an offer to go into the draw for over $1000 of winter essentials courtesy of event supporting partner BBB Cycling – You Can Enter Here.
Top 5 Winter Cycling Tips
1 – Invest In Quality Winter Kit
Cycling kit has come ahead in leaps and bounds over recent years with many toasty warm yet lightweight and breathable products around – light, thin and comfortable fabrics offering more insulation and efficiency than ever before. Take a look at the extensive range from event supporters BBB Cycling here.
2 – Be Seen Out There
It seems bike light and battery technology is being boosted year on year – there's simply no excuse not to have front and rear lights fitted to your bike. Day and night running lights are a no brainer, we don't leave home without them and nor should you.
3 – Layer Up
When preparing for a cold to cool weather ride dress for the expected temperature 20 to 30 minutes into the ride. You might be a little colder when you initially roll out but for the majority of the ride you'll be far more comfortable (and carrying less excessive gear).
4 – Head, Hands & Feet
Remember your extremities – your head, hands and feet. Headwear such as a thermal scull cap or winter cycling cap is critical –  up to 30% of heat is lost through the head. A wide variety of high quality half, three quarter and full fingered cycling gloves are also available and mandatory for not just warmth but hand protection – particularly during the cooler months.
Quality thermal socks are also important as are waterproof / windproof shoe covers that will ensure your precious training time remains far more bearable during the cooler months.
The simply inclusion of rear mudguard can make a major difference in winter. Most bike shops stock 'ass saver' type spray and splatter guards – disposable versions are also readily available.
5 – Retain Your Mojo
One of the major challenges of winter is maintaining that warm-weather mojo. With the Bowral Classic just 5-months away and counting, it's important to keep training, to retain and maintain fitness and ensure you're in the finest possible form on event day.
Set weekly targets on Strava, register for distance and altitude challenges and arrange regular rides with friends. You may even want to set a pact with mates that you'll motivate and encourage each other, all powering on despite the conditions.
What are your winter training techniques? We'd love to hear your comments … Have your say over on the Bowral Classic Facebook page!
Haute Route Oman – Exploring The Desert And Mountains Of Oman By Bike
In this fascinating insight into cycling Oman, Bowral Classic Ride Director Will Levy offers a background into the region's two-wheeled options and tells us about a unique new Haute Route 3-day challenge + 10-day cycling safari to Oman in early 2019.
The country of Oman has an interesting modern history. Oman's leader, His Majesty Sultan Qaboos bin Said, came to rule in 1970 after a bloodless coup to take over from his father. At this time, the country was in strife. There was an infant mortality rate of 75% and education was not a priority with only three schools throughout the country. What is more, from a cyclist's point of view, there was only 10km of paved road. Things have changed since the 1970's. Gone is the high infant mortality rate, there are now over 30 universities and higher education institutions, world class hospitals and over 30,000km of beautiful tarmac strung throughout the country. 
This was my second trip to Oman. In February 2017 I went to watch the Tour of Oman and ride the course with a group of industry professionals. This time I was back for the Haute Route Test Event.
A test event is just that, for riders to go out and confirm whether the route will be too hard, too easy or just right, a little like the Goldilocks fairytale.
Haute Route Test Event
In the lead up to the Haute Route Test Event, riders were told to prepare their bike for some serious hill climbing. Low gearing was highly recommended – compact with a 32. That was warning number 1 then warning number 2 was to leave your carbon rims at home, riders were instructed to bring alloy clinchers with low profile rims. You do not need to be too seasoned of a veteran to know that their suggestions meant that we would be going up AND down some pretty serious climbs.
Stage 1 – Serious Climbing
Stage 1 stats : 98km with an astounding 3,403m of climbing, going up Jebel Akhdar – aka the Green Mountain. 7:00am, 20 riders rode out from Nizwa, 545m above sea level. We were a social bunch for the first 10km, then things changed. The bunch splintered well before we hit the Police check point at 1km into the climb – from this point on no 2WD vehicles are allowed pass – except on this day when bikes were allowed. During the next 14km most of us were out of the saddle while tackling 10-17%. We reached the first rest stop at 24km, 1,958m above sea level.
For the next 74km, riders never descended lower than 1,818m and we topped out at 2,262m. With a combination of switch backs, steep and long climbs and a few flat sections we found our individual rhythms. Of course what we rode in one direction we would soon see as we rode back to the stage finish, back at the first rest stop. At the turn around we were looking over the second largest canyon in the world, the largest being the Grand Canyon. 
Stage 2 – Stunning Scenery and More Hills
Stage 2 stats : 128km with just 2,590m of climbing. On the 50km of 'flat' riding from our hotel to the base of the first climb we rode through traditional villages with their palm dates and water runs. The contrast of the desert, blue skies and palm dates is something that is a lasting impression of beautiful Oman.
The first scheduled climb was labeled as a 'European style climb' – locals called it Al Hamra, a 23km climb with a total of 1,353m ascent, avg 6% and topping out at 1,950m. Jonathan Shubert is the KOM of this climb at an astounding 1:14:11, averaging 18.5km/h. This was not going to be challenged on this day.
Back down in the valley it was 36C, we were all aware that the next climb included a section of 3km with an average of 14%! The climb of Jebel Shams, definitely not a sham, officially began at kilometre 118. As roads are relatively new in Oman, I can only assume that they had a different train of thought when it came to switchbacks, they are completely different to let's say Alpe d'Huez where their corners give riders a slight reprieve.
The Haute Route events are all about putting on multi-day cycling events which are tough. There is no doubting that we all remember days which a tough on the bike. Stage 2 will be one of those days which will take a long time to fade from the memory bank. The steepness, temperature and the exotic location are still burning in my brain, all in a good way.
Stage 3 – The Adventure Continues
Originally, for Stage 3, we were going to be riding back up the first part of Stage 1, up Jebel Akhdar, just the first 14km up to 1,958m above sea level. People were not smiling so much anymore at the thought of riding back up this wall. Then we had briefing. The organisers mentioned that Stage 3 would see riders go up another climb, a much easier climb. You could almost hear the easing of people's hearts. 
Stage 3 stats: 9.3km with 343m of climbing.The next day we transferred from Nizwa by bus out to the base of Misfat. The ITT would take off from the village below. One by one we set off and rode through a quintessential village, around some round a bouts, past their dirt football pitch and then up the 4.13km 'segment', average 7%, climbing 299m and topping out at 949m.
Our adventure did not stop at the top. After a change of clothes we were then invited by the village elder Mohammed for a walking tour of the ancient village. Hearing stories of how the water is equally shared amongst the villagers via channels, why they eat their dates in odd numbers and sharing an Omani coffee were just some highlights of another day in Oman. 
In general, riding in Oman is very safe, interesting and challenging. We had a few days riding in the Capital Muscat before the event. The terrain through which we rode resembled something like what you would imagine as moonscape with a black ribbon of a road cut through the limestone countryside. Occasionally, you encounter roaming camels, goats, donkeys and wild cats. The law of Oman states riding bikes in the hard shoulder on the freeway is legal and any vehicles caught driving in the hard shoulder is punishable by prison! 
Much More Than Just The Riding
The adventure to Oman was not just about the ride, there was also time to experience the old port, the Gulf and surrounds of Muscat. A must see is the Sultan Qaboos Grand Mosque which was opened in 2001. It can comfortably fit 20,000 people at the one time to pray. We also visited the fish market where colour abounds from both the fish and the characters who are there to buy, filet and sell their stock. Another must visit location is the souk, the cities bazaar. Never will I forget the smell of frankincense wafting through the air, creating a dense cloud throughout the market. The stall holders kindly encouraged you into their stores to buy candles, incense, silver, gold, frankincense and funnily enough myrrh. 
The inaugural 3 Day Haute Route Oman will be held in March 2019. twowheeltours will offer a fully catered 10 day tour in combination with the event Sunday 24th February – Tuesday 5th March 2019. This Middle East adventure is one not to be missed, we'd love you to come and experience something completely different.
Story: Will Levy – twowheeltours
Images: Antony Jones and Will Levy
Link https://twowheeltours.com.au/haute-route/oman-2019 
New For 2018: Thrilling Team Time Trial Event On Saturday October 20
One of the most exciting new additions to the 2018 Bowral Classic is sure to be a Team Time Trial event to be held at Bowral's Eridge Park outdoor velodrome on Saturday October 20.
Stop for a moment and imagine the atmosphere …. Teams of four riders racing the clock, working to chase down the time set by the previous group, all to the roar of the crowd and tick of the clock.
The time trial will provide an afternoon of action and entertainment with racing from 1.00pm – 5.00pm. Riders in teams of four will complete 10 laps around the velodrome to take out the title of inaugural time trial champions.
Racing The Clock For  A Great Cause
To enter the time trial event teams must pay an entry fee of $100 with every cent going to our charity partners RUOK?
The Time Trial winners will be presented with a share in $1000 worth of prizes thanks to local Bowral cycling store, The Fixed Wheel.
Categories include:
Male
Female
Mixed – two males & two females
Clydesdale- total weight of all four riders must be at least 380kg.
190YO or above- total age of all four riders must be a minimum of 190 years.
R U OK? is a not-for-profit organisation founded in 2009 by Gavin Larkin. R U OK?'s vision is a world where we're all connected and are protected from suicide. Accordingly, R U OK?'s mission is to inspire and empower everyone to meaningfully connect with people around them and support anyone struggling with life. Funds raised will support R U OK?'s health promotion initiatives. Find out more at www.ruok.org.au
2018 Bowral Classic Announced With Exciting Changes & Additions
The award-winning Bowral Classic is back for 2018! Are you up for the challenge of riding the ultimate Gran Fondo cycling event?
Bigger and better, the 2018 Bowral Classic will feature new and improved scenic courses centred around Bowral including a gruelling 175km parcours and brand-new Saturday Team-Trial Velodrome event – more on that exciting addition later in the week.
Following two Australian Event Awards; 'Best New Event' and 'Best Community Event', as well as being awarded 'Event of the Year' at the Australian Magazine Awards, the Bowral Classic will return for its third year to the pristine Southern Highlands.
Four Courses For 2018!
Not content with 3 course options – and as further proof of the widespread popularity and challenge factor of the event – now there are 4 courses to choose from.
The 175km Maxi Classic, a challenging ride through some of the most breathtaking scenery you can experience on two wheels.
The 120km Challenge Classic; for those with less time on their hands, or distance in their legs.
The 90km Rouleurs Classic, a brand-new option in the 2018 Bowral Classic.
Or for a cruisier and casual experience, the 35km Social Classic ride through the most stunning areas of the Southern Highlands, with the opportunity to stop in a local wineries and cafes along the way.
Three Year Rider Jersey + The Charity Factor
For those loyal Bowral Classic riders we're offering a special jersey tailored to recognise their involvement in the Bowral Classic for the past 3 years.
To date the Bowral Classic series has raised over $250,000 for various charities via the unique 'Choose Your Charity' option. The prime objective is to add to this total in 2018, helping to change the lives of as many Australians as possible.
Something For The Whole Family
One of the best parts about the Bowral Classicis the ability to include all levels of Cyclists – including those with little legs. In 2018 riders aged 12-16 can sign up for the Maxi, Challenge or Rouleur course if they have a Cycling Australia Race Licence, and children over the age of 10 are accepted to ride in The Social Classic. Please keep in mind that under 16's need to be accompanied by an adult.
The Bowral Classic is more than just Cycling. The event will live up to the Southern Highlands' reputation as a foodie hub with suppliers from all over the region offering up an array of fine food and beverage delights at 'The Village', a tent land that will spring up at the Bowral Classic finish line, Eridge Park.
Riders and their supporters can relax on supplied bean bags and refuel on the fine food, coffee, wine and craft beer that will be in abundance at The Village where a live band and BBQ will also add to the festivities. And there will be an array of kids' activities, including a petting zoo and face painting.
Are You Keen To Help?
Anyone interested in helping out as a volunteer at one of the biggest events on the Southern Highlands calendar in 2018 can email their details to [email protected] and one of the event organisers will be in touch.
Go to the Bowral Classic Facebook page to keep up with all the latest event news and views:www.facebook.com/bowralclassic
To register for the 2018 Bowral Classic visit www.bowralclassic.com.au